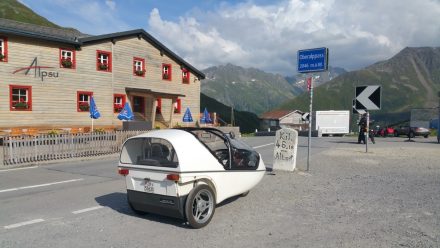 Finally – the day I've been waiting for has come!
TW560 is ready for a first week of driving in minimum configuration in order to detect any major problems before going ahead and concentrating on the remaining details.
I will be collecting TW560 from Andi in a 'barely driveable' state.
This means:
No fog lights
No reverse light
No internal lights
No 12V outlets
No windscreen wiper!
The hood will not fully open
No wheel covers
No battery bay cover!
Lots of non-connected cables everywhere
No serial number…I'm incognito 🙂

but:

All drive-related parts are functional!
Front lights work
Indicators work
I travel to Ramsen in the north of Switzerland to collect my TWIKE. Really looking forward to my first real trip in my vehicle after totaling the vehicle and its subsequent re-build.
After a first week driving shorter distances and making sure everything is ok, the following week I'll be taking TW560 across Switzerland for some business meetings and to take part in a equestrian challenge in a small mountain village called Flond and visit one of the until recently most closely guarded military secrets of Switzerland.
Back to all-new TW560… Time to get in!
Aaahh…my TWIKE: this just feels magic! It's like getting back together with an old friend.
Andi and I go through a quick check if the most important things work…they do. I'm ready to leave and drive my first few kilometres.
I say goodbye to Andi and off I go.
Immediately I notice that the soundscape within TW560 is very different. The motor assembly noise is similar, the rest is new. (not surprising, as everything else is a different TWIKE!)
But is it TW560? I still can't decide. For my first drive I decide to drive to the rolling hills of upper rural Canton Zurich region.
I feel grand! Very soon I'm back to the meditative state every TWIKE pilot knows – the electric motor humming and the TWIKE just blending into the overall scene.
After a few days and a few hundred kilometres on short trips only, the time has come to take TW560 on a longer trip – to Berne, Thun and Flond. This trip includes some mountain passes…which I'm really looking forward to!
I'm not going to bore you with pictures of me driving motorways or flat rural roads…we start after my meetings in Berne and Thun and me driving towards Gadmen from Brienz.
It's difficult to describe how long I've been waiting for this kind of trip. Crossing Switzerland in a TWIKE is probably one of the best ways to experience its beauty. (Try it!)
TW560 climbs the windy mountain road without any problems – the motor, if anything, is running cooler than before.
I've already been here
a while ago
– it's still impressive.
Without much fuss or fanfare, I arrive at the highest point looking forward to the unusually gradual descent on the other side. I'm sure this isn't as easy to feel in a car than in a TWIKE. The descent allows for near-100% recuperation rates on the way down.
Arriving in Wassen, a village in the main Canton Uri valley, I get to see an impressive sight – a completely blocked motorway with backed-up traffic queuing for kilometres.
This means that there is quite some traffic on the usually deserted side roads leading up the valley.
This is not a problem – just a few kilometres of slow traffic for me…in Andermatt, I leave the main road leading to the Gotthard pass and head off to the Oberalp pass with the roads belonging – once again – just to me.
The Swiss alps are a beautiful place to be. You should come to visit if you haven't and you will forever want to come back again.
Climbing towards the Oberalp pass offers many stunning views of the valley below, which includes the incredible 5-star
Chedi Andermatt
. It's stunning, architecturally works really well with its surroundings and offers an interesting mix of Asian and Alpine design language. If you have a moment to spare, give the living room a try, if you have a little more time and the time is appropriate, try the library with a fine cigar and some rare spirits. Some day, I'd like to stay and enjoy one of the rooms.
Up, up, up!
Nearly there.
Just a few kilometres and I'm in Flond – where my daughter and her friend are already tending to our horse, ready for the competition taking place during the next 3 days.
I, however, tomorrow, will be driving back up the Oberalp pass to go to visit the super-secret Swiss military installation I mentioned at the beginning of this post – stay tuned!