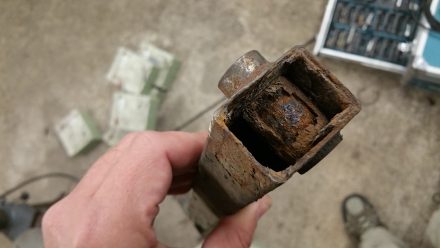 Prior to any TWIKE adventure, I usually take my TWIKE to an official TWIKE service centre to have a general check-up. This ensures that the chance of being left stranded somewhere far away is low.
After discovering a slight problem with my steering swing assembly, I had an urgent reason to go to Andi from Ksenotek and have the assembly replaced besides my usual check-up and getting some new tyres.
Furthermore, TW560 had started to develop a very annoying squeak when recuperating – not breaking – leading me to suspect some damage to the gear drive assembly.
And, as always, the check-up could yield other parts in need of replacement…
But first things first:
Steering swing replacement (…a part that definitely needs replacement)
---
TW560's steering swing bolt would not budge and Andi wanted to save some time, so he decided to cut through the axle and bolt.
Quickly, TW560's old swing was removed and the new one was put in place.
Re-assembly of front axle with new swing.
Time to have a quick look at the old swing and its lack of metal 🙂
How much metal was there for an emergency brake manoeuvre?
This is the part of my steering swing I definitely wanted to replace!
Touching the rust on the swing's axle made it very clear that this replacement was very important: No metal left – everything's just rust.
Happy that with this repair, I can continue to go on trans-European TWIKE adventures with confidence!