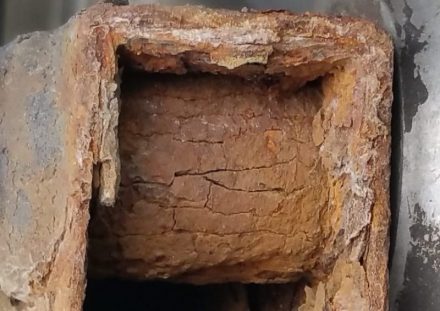 Once every month, I check my TWIKE's exterior for potential problems (like this one, or this one) that are easily fixed if detected early and turn can into very costly repairs, if left unattended.
This entry shows you another part of your TWIKE you should check regularly – which I haven't … until now.
TW560's swing steering arm!
Seeing this brown colour – very unusual for a TWIKE since all other parts are made of either plastic or aluminium – got me thinking: rust is never a good sign.
I'm aware that most of my readers haven't seen this part of their TWIKE without its typical (non-removable) Luran outer shell.
So, before showing you the goods, I'm going to show you the unique solution the TWIKE inventors came up with to provide a compact front wheel suspension and steering assembly that weighs near to nothing:
Let's take off the front cover of TW560's steering swing, shall we?
UH-OH! Not good. Remember: I'm driving at 100kph with this steering assembly!
I was curious to see how bad the situation was. Would there be any way to just sand blast the thing and apply a layer of rust-resistant paint and continue driving?
I'm afraid, no. After just a few seconds of sanding, major issues with the left-over metal showed up:
No metal left at all!
With this, I thought I'd check the rest of the assembly, since I already had a front suspension collapse due to a broken strut years ago and was curious how it had held up.
The whole assembly needs urgent replacement! Everything is rusty and no longer fit for long-distance driving – especially since I'm planning a
pan-European trip
in just 3 weeks!
Theoretically, there are multiple options from here: Buying an original part from
FineMobile
, the current TWIKE manufacturer (same quality as the current assembly), a much improved version from
Thomas Bechtiger
, which, while not made of stainless steel, has a better coating and bearings instead of a normal axle and – my favourite – a fully stainless steel version which is not only stronger, but will never have this problem again. …from
the usual suspects
.
Sourcing any one of the non-original versions is difficult and cost-intensive.
…stay tuned. (How about you check your own steering swing and send me a picture to be published here?)