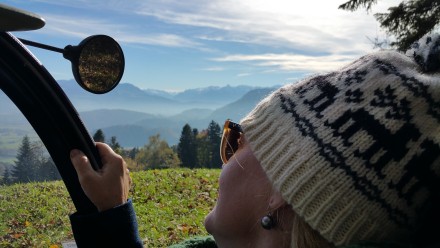 Contrary to my prediction in my last post, we've been having extremely nice weather late into the year – a week-end of sun and acceptable temperatures for driving without the canopy was coming up. Claudia, a close friend and long-time reader of my blog, had asked me to join me on a trip for some time now: 1+1= another awesome one-day-trip with TW560.
Since there are many places we could head to, I asked Claudia if she had any preference: Appenzell and the upper Rhine valley. (Good choice!)
We agreed to meet early morning in Winterthur. This left me with a challenge: I've driven to Feldkirch many, many1, many2, many3, many4, many5, many6 times – in total about 25 trips. Since I hate driving the same route again and again, I was getting increasingly desperate to find a road I hadn't taken yet. For this trip i wanted to find a new passage to Feldkirch via Appenzell… challenge accepted!
Thanks to Google Mymaps & some free time, I was indeed able to find a new road! See the track below – highly recommended -> you'll see some truly rural Switzerland! The yellow area in the map below shows the new part. You can use the map below interactively and zoom in.
Our first half-hour is rather cold and dark. That said, this part of the trip is not worth writing home about (sic!). But then, just as the day slowly starts, we enter the new stretch of road and are greeted with unreal scenes of stunning beauty.
Fog lies here and there, whilst on the horizon, slowly, a kaleidoscope of colours unfolds. Cows lazily graze in high grass weighed down by morning dew. No other sound except for our quiet electric hum.
The road is just unbelievable – we drive from one hill to the next, discover farm after farm where hard-working people are going after their tasks, happily waving at us and generally looking very content. This is a Switzerland even Swiss people don't get to see all too much.
Just 2 km of roads aren't paved. Although official roads between villages, even in Switzerland, there are such stretches of road.
Today is a day with exceptionally clear weather. Early on, we see the Säntis, a very prominent peak close to Appenzell.
With the sun above the horizon, temperatures rise and we decide to take off the canopy. Time for a TWIKE team picture!
Shortly after our team photo was taken, we arrive in the town of Appenzell. A major Swiss tourist attraction, it has a town centre with many wooden houses painted with local folklore stories or designs. During lunch breaks, shops close but leave their merchandise outside – demonstrating the implicit trust everyone here has and had in each other.
Another special feature of Appenzell is the so-called Landsgemeinde: One of the oldest forms of direct democracy, where eligible citizens of the canton meet on a certain day in the open air to decide on laws and expenditures by the council. Everyone can debate a question. Voting is accomplished by those in favour of a motion raising their hands.
Historically, or in Appenzell until the admission of women, the only proof of citizenship necessary for men to enter the voting area was to show their ceremonial sword or Swiss military sidearm (bayonet), this gave proof that you were a freeman allowed to bear arms and to vote!
If you are in Switzerland, Appenzell should be on your list of places to visit.
After walking around Appenzell for about an hour, we decide to head onwards to Feldkirch. There aren't too many roads that lead to the upper Rhine valley. This is why I chose the one with the nicest views 🙂
After just 5 kms we arrive at the highest point of the traversal and are treated with magnificent views that get me every time. What a beautiful place!
Just 30 mins later we cross into Austria and arrive in Feldkirch, just in time for a spot of lunch. Thanks to my CEEplus adapter and a Park&Charge key we're charging at 32A in no time.
For lunch we eat at a restaurant called Schützenhaus, above Feldkirch.
In direct view of Feldkirch's landmark, the Schattenburg, we are treated to traditional Austrian dishes – I choose a dependable Austrian specialty: Backhendl with potato salad.
Very satisfied with our lunch, we return to TW560 and, fully charged, set out to drive along lake Constance's northern shore through Germany to cross back into Switzerland just outside Konstanz.
The drive along the northern shore is less relaxing than expected. Lots of traffic and not too many single lane roads. The ones we find, however, are very nice.
In Meersburg, we take the ferry to the city of Konstanz – a 10 minute trip.
Whilst Claudia is tending to TW560, I'm in extended discussions with ferry employees how exactly to determine the ferry price for TW560. We agree on a solution which is as close as we can get to what a TWIKE is. 🙂
Leaving Meersburg, we are looking forward to some white wine and a nibble whilst we're charging.
Constance city and municipality has been investing heavily in electric mobility. Not only can one get a sticker for EV's, allowing them to park for free anywhere in Constance municipality (I've got it), most multi-storey car parks in the city have multiple higher-throughput charging stations. Very forward-looking!
Arriving at the car park, we charge TW560 whilst heading out to the old town centre.
With a glass of exceptional white wine and some cut meats and cheeses, Claudia and I spend some time talking about our trip – she really liked traveling with a TWIKE and has already asked for more 🙂
TW560 sent us an SMS when the charge was done and we drove into the dark of an early late October evening, back to Winterthur, where we bade our farewells and both headed home separately.
Another very nice day touring Switzerland with a TWIKE & possibly the best way to experience this small and diverse country. Let's see if there will be another trip this year. Temperatures are still way above average – never say never! 🙂