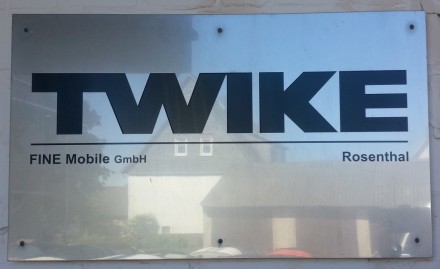 after a good nights' sleep, i rise refreshed from yesterday's marathon drive across germany.
i have a nice balcony on which i enjoy my breakfast, looking down on rosenthal.
breakfast over, i head to fine's HQ…
after chatting with some employees, i head for lunch with fine's ceo, martin möscheid, his brother and the first official twike2fly (in german) partner from morocco, silvia brutschin (a.k.a. twikezora).
after lunch, martin möscheid took some time to explain the history of how TWIKE production was transferred to fine mobile after swisslem went out of business. he filled in many blanks i had and threw in a few anecdotes for good measure 🙂
we then proceeded to the production floor and i got a tour by the ceo himself.
knowing how large-scale automotive assembly looks like (i worked for fiat in Turin for 9 months – 10 years ago) i was keen on seeing how production processes look like on a smaller scale.
most steps in the production line are manual – few are semi-automated such as motor testing after assembly.
every TWIKE is then placed on a lift and within 4-5 days a new TWIKE is built from scratch.
during my 2 days at rosenthal, a new TWIKE was placed on the lift for assembly. it was very interesting to see the parts which are usually are very difficult to get access to … such as the battery bay.
even more highly skilled work is necessary when building the canopy and space frame:
when the process is completed, TWIKE's ready for delivery are lined up outside.
after touring the production-floor, we head towards an other part of the building where fine mobile services TWIKEs from most of northern germany and some countries bordering germany to the north.
there, my eye spies a TWIKE with some very interesting artwork – i really liked the aviation reference! (since TWIKEs are piloted, not driven, and many say that it is as close to flying as you can get whilst still on ground!)
then we got to a very interesting part of my visit: getting into the details of the next TWIKE vehicle, dubbed TW5.
i was allowed to view all aspects of the vehicle on a CAD workstation and discuss some of the revolutionary ideas in detail.
most of what was said fell under a NDA we agreed upon > but there are some aspects of the new design i can reveal: the new vehicle will definitely NOT look like the one below 🙂
it will incorporate some parts of the vehicle below, but TW5 will still not have a steering wheel!
but mostly the information i could give you right now is more of the type below:
what i can definitely say is that many features will be taken from TW4XP, the prototype for the prestigious x-price competition. the pedals from TW3 will stay, too.
in the near future i will be writing regular updates on TW5 development updates and highlight some of the innovations when their development has been completed > these will be published in german on twikeklub.ch.
after a good 4 hours of discussions and exchanging views on some of the really avantgarde options of TW5, martin möscheid proposed we take TW4 for a quick spin so i can get an idea of how the vehicle handles and see how the two-handle steering system works.
TW4 is impressive, sleek and good-looking. i get in and find loads of space plus racing seats with 4-point race harnesses. given the fact that this is a hand-built prototype it still looks professional.
most impressive of all is the exposed front wheel suspension.
we set off and just outside rosenthal, martin accelerates up a small road – i immediately feel massive torque and lots of g-force through corners – it feels like TW3 on steroids without needing to worry about breaking one's rims when cornering hard..
TW4's new steering system is very intuitive and gives a similarly quick response as the joystick-based system employed in TW3. after 15 minutes we arrive back to fine mobile's hq and have another long conversation about which aspects are best incorporated in TW5.
time flies when you're having fun and after thanking martin and his staff headed back to my hotel – i need to get to bed fairly early tonight since i'm going to leave rosenthal 4.45am next day and drive another 520kms in one go.
most of the drive is uneventful, i drive slightly faster than on the way up. interestingly, by doing this, i consume more energy (+3Wh/km) and it took 10 mins longer to get home.
thank you, again, fine mobile for this visit and all the time you took!