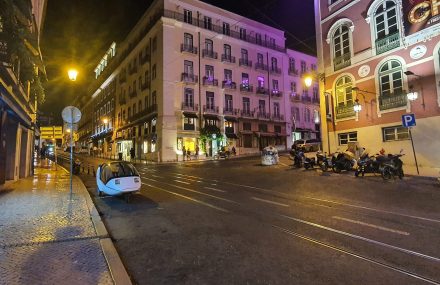 Another week as a digital nomad starts – I can reach my office by TWIKE in about 12-14 minutes and I really like trying to discover a new way to get to the office every morning.
The only thing I don't like about Lisbon (and many parts of Portugal) is TWIKE-related: Cobblestones. Lots of this kind of surface…coarse and fine. Very bumpy and definitely the reason why I've had to tighten many more screws than under normal circumstances.
Every evening I get to go out with some colleagues from my office or with people that reached out via Twitter.
My evenings usually started here, at the Quiosque just outside our office. Portuguese finger food with beers and drinks – all this in the shade and at very nice sub-30°C temperatures. What a life!
Lots of – finally face to face – catching up which is so much easier over some beers.
I also really like working from my temporary Lisbon home. It is such a studious environment which supports my blog-entry writing.
Not all pieces of furniture are equally well equipped to support the load they are subjected to 😉
The selection of books available is very special –
Lisbon is a treasure trove of restaurants – Whilst it is advisable to steer well clear of the restaurants in the tourist area, you can find a great selection for any taste and budget!
One of my favourite super-local-hole-in-the-wall-style restaurants is A Gruta de Camoes. Home-made-style food served with love and generosity. Just a few tables and a short menu ensure that the food is always fresh. Later guests might not have all options as the ingredients can just run out.
Ah, life can be good. LX factory is very touristy – still went there with some new-joiners that had relocated from Austria and were happy to explore the city. LX factory has a bohemian feel to it and is worth at least one visit.
For me, getting back to the apartment always means quiet and tranquility. The window to the inner courtyard was my favourite as there is always a fresh breeze from the cool winds coming in from the Atlantic. Just perfect.
For the weekend, I decided not to drive to another place far out of town but rather to do what people from Lisbon do: Drive to Cascais and stay at the beach with some water and sandwiches and eating some fresh Bola de Berlin that are sold on the beach by vendors.
Imagine Driving your TWIKE 40 minutes from your apartment to the beach – that's quality of life!
I was also able to capture the following picture one late evening without any traffic. It looks very 'Tokio Drift'-Style.
Unfortunately
, TDP2021 will need to take a break for 3 days during the 3rd week in Lisbon. Unforseen business-related reasons require me to fly back to Switzerland for meetings Tuesday to Thursday.
The Sunday evening, however, was a real treat – yet again. I met up with a local entrepreneur who reached out to me via Twitter. We had planned to drive across town and then have some food. His suggestion food-wise was Ponto Final, a place just across Lisbon bay with beautiful views…and a place I hadn't been yet.
Ponto Final cannot be reached by car. To get there, you park about 2km away and then make your way to the very narrow riverfront. The steep stairs and distance are rewarded by a beautifully serene view and super laid-back places to eat.
One of the last things I'd like to re-iterate:
Having to fly back to Switzerland isn't all bad, though. I can take back home some clothes and things I will no longer need and thus be able to drive even more economically on the way back! 😀
I'm looking forward to getting back to Portugal to start my epic 2500km drive back home.