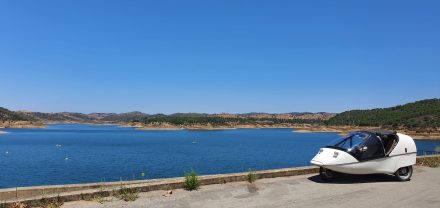 I get up at 4am to see off my family. They are heading back to Switzerland, whilst I get to spend another full month in Portugal.
With still a few days to go, I'm really looking forward to staying at the eco-resort I've booked for the next few days.
Later that morning, I wake up the second time today to yet another beautiful day. After sorting all the last things I'm ready for my trip today and I must confess that I'm really looking forward to driving the TWIKE again.
As the shortest-route distance to the place is just 80km I thought I'd drive a little further in-land and see how rural Portugal looks like. For this I researched a little and found an interesting landmark (Ponte de Salvador) that a few bikers had commented on … Intreresting body of water, visible submerged trees as this was water from a dam etc.
My departure from the Algarve today also marks the start of my (longer duration) return to Switzerland. Let's see how the tyres are doing. Most people that have been reading this blog for a while know that I prefer to drive on slicks as they are the most economical energy-wise. And with this set of tyres, we're nearly there.
Heading more or less north, I immediately leave any tourism behind me and enter Portugals rural hinterland. The road surface varies from very good (thank you, European Union) to at least 40 years old and super-horrible stuff for the TWIKE.
The landscapes however, are very pretty and my single-lane class-D roads are deserted. I literally drove for hours without crossing a car or anything else for that matter.
[geek]
Mobile phone network-wise this part of the trip was really interesting. As quickly as we had left tourism
, we also left any decent mobile phone network coverage and newer RAT's behind us.
As I'm roaming, I can easily change between networks should one not be available but here, regardless of the provider, the only RAT available was GSM and usually very much at the cell edge or just plain out of range.
Distances to the cell towers became longer and longer –
Interesting stuff I usually don't get to see in Switzerland with our seriously over-engineered coverage anywhere on all not yet retired RAT's all the way to 5G. I'm wondering how long Portugal will not be able to sunset GSM due to regions like this, as I can't see them achieving similar or better coverage with newer RAT's even at lower frequencies without some heavy investment into additional cell sites.
[/geek]
Back to the super-relaxing trip with my TWIKE!
Eventually, I make it to the bridge… which was a bridge over some water minus all the interesting bits the bikers had seen.
The only thing I was able to determine was the fact that there usually must be much more water in this dam.
As I was unsatisfied by this experience I thought it might be interesting to drive to the dam itself and have a look…
…which was very nice. No people at all and very deep shades of blue matching the deep blue sky.
Looking towards the sea from here, I remembered something else I was curious about and my wife and I hadn't followed up on…so: to the sea we drive!
Along the road leading to Sagres, at a certain point there is a sign with an interesting three-fish logo and I was now determined to find out what I would find when following the sign.
The road was km after km of nice shade thanks to trees planted along the road.
Eventually, I got to the literal end of the road and found the three fish:
The place is magical. Sitting above a cliff it has beautiful views and nothing else to block the view. The menu had all my seafood favourites.
After another 30 km or so, I arrived in the picturesque village of Bordeira. The owner of the eco-lodge had asked me to park on the main square, phone her and have a drink as it would take at least 15 mins for her to arrive as they lived in the Styx and no Google would take me where they lived, as the roads leading to the lodge weren't on Google. (which is exactly in-line why I chose this secluded place)
Whilst I was having a relaxed beer and chatting with a few people on the main square where the TWIKE did its usual magic, eventually, Dorris arrived.
She was super exited and started chatting with us all but eventually, got a bit concerned and asked me how bad the roads could get for the TWIKE as she would not define the track leading to her place as a road.
Having been to India with the TWIKE, I said that we had seen some pretty rough tracks in the past and would give it a try.
So, with some considerable distance due to the dust, I slowly followed her van into the hinterland…and the first bit of road was quite ok!
But then, it got really rough. Proper off-roading and although I was creeping along at 6 km/h I had to pay a lot of attention not to damage the battery bay or get stuck.
Thankfully, after around 4km of challenging off-roading, we make it to the lodge.
And it is exactly how I had imagined it. Far away from anywhere. Quiet. Friendly hosts. Geared towards relaxation.
The place is fully off-grid with its own well and fully solar system with batteries.
We chat for ever and see the sun set whilst munching on some freshly baked bread and a salad with some beers.
I'm really looking forward to the few days here!
Let's see what the stats for today look like.
And my somewhat weird loop of today.