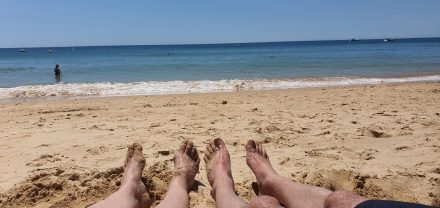 As ever so often during a longer trip, this isn't a TWIKE-trip-related entry. It's rather an entry to keep the day count in the title consistent and to let you know that there is – believe it or not – a life that doesn't include driving a TWIKE for days on end somewhere out there…
After our rather long but very nice trip from Lisbon to the southernmost point of Portugal and further eastwards along the Algarve, we eventually arrived at the villa we rented close to Albufeira.
For us parents the plan is to spend some time on the beach and eat lots of seafood. Our young ones wanted some more action and will definitely also check out Albufeira's infamous 'Albufeira Strip' – a longer stretch of street lined with bars on both sides and popular with younger people.
We had a very nice villa with all necessary amenities to make our stay comfortable.
Just a few hundred metres away, us parents could typically be found doing nothing and enjoying the beach and sea. Being used to the Mediterranean, the water temperatures here were something we had to get used to…brrr.
We went to small local restaurants from time to time and had really good food. For us, this is one of the main factors of relaxation when on holiday.
There is no sugarcoating the fact that larger stretches of the Algarve are heavily focused on Tourism, specifically UK tourists. There were some spots we came across that could have been in the UK, if it weren't for the sun and Portuguese license plates.
We all go to have a peek at the 'Strip' – about 750m of loud bars and restaurants primarily aimed at a younger clientele.
At normal tourist levels and pre-Covid, I can imagine this to be quite a lively place. Today, however, there are much less tourists and a 1030 curfew after which no new orders can be made. Many of the bars are totally empty and are fighting hard to get customers in.
My wife keeps sticking to the 100% relaxation programme whilst I and my kids decide that it would be a cool idea to get a private guide and some ATV's and discover how the hilly hinterland looks like.
Whilst not yet electric, these ATV's are a lot of fun!
Around where we live there is a number of golf courses and some of the houses come with a golf buggy as part of the infrastructure. We saw this kind of street charging quite often.
Time flies when you're having fun and the few days we had went by very quickly.
My family will be leaving tomorrow at 4am – attempting to drive to Switzerland in one go, which will take about 22h. In order to be able to stay in France overnight, if necessary, everyone got tested at one of the many mobile testing centres.
€70 per person later, we head out to a small fish restaurant for a last meal before going to sleep early.
For my few last days of quiet before returning to Lisbon and start working again … from our Lisbon office, I've found myself an Eco-lodge in the middle of nowhere close to the Vicentina Coast.
To get there, I'll spend a nice day driving a big loop through rural southern Portgual as the place is just 80km away using the shortest route.