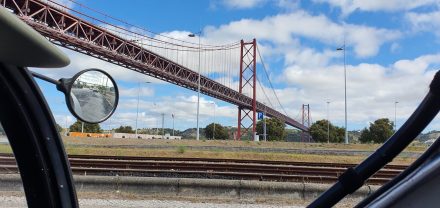 Much too soon, it's time to leave this paradise of quiet and friendliness. I'll be back for sure. If you feel like visiting this place, you can reach Dorris and Ed here. I strongly recommend you to visit them if you can.
Ed was adamant to not let me leave without a sandwich and prepared one for me with all his usual love and dedication I have become used to with his breakfast concoctions:
There is just that much that I can say about my stay – see the following video showing them sending me off.
After returning to the real world after 4 km of dirt track, I'm back to a relaxing drive along back roads towards Lisbon, since I didn't want to take the same coastal road to Lisbon as I took just a week ago. I have arranged to check into my apartment at about 5 pm which gives me about 5 hours to get there.
This time the route takes me much further inland – lots of agriculture and wine cultures.
There were, interestingly, less hills to cross this time – my consumption was consistently at 32-33Wh/km which is very, very good.
Eventually, I get close to Lisbon with some time to spare. In April this year I already had been to Lisbon for work and had lived across the river in a small town called Trafaria. To get to the office, I usually took an Uber, as I didn't have too much time to spare.
From Trafaria (which itself is worth a visit as it is a very small fishing village with some nice restaurants at the seafront and in the village itself …Casa Ideal being my favourite seafood family-run restaurant) there is a ferry to Belem across the river. Since my apartment is in Alcântara just below the bridge, arriving in Belem would be a perfect way to avoid traffic and a longer drive around the bay or even crossing the same 25th April bridge again. I checked the timetable and saw that there was an hourly service. Arriving a little in advance would allow me to drink something and relax before meeting with my friend that had facilitated the stay and his family for some drinks in Costa da Caparica
Having arrived at the ferry terminal in Trafaria, I proceed to purchase the prohibitively expensive ticket for myself and the TWIKE: €2.40. I've always liked to take ferries with the TWIKE – it's just a very special thing to do.
See me drive onto the ferry below – as a special bonus, this is a side-loading RORO ferry!
Not too many cars crossing today, though…
The views from the ferry are very nice – Lisbon's iconic bridge visible from afar.
Having arrived on the other side, it was only a 10 minute drive to the apartment which will be my home for the next 3 weeks. I've also arranged for my TWIKE to have a proper parking garage from Monday onwards – today, I just unload everything and park in one of the many public garages available.
After check-in we head to Costa da Caparica, one of Lisbon's closer beaches for a drink. A very nice continuation of my day as it is a very nice place.
Later on
, I am treated to super-fresh seafood at a very local place and I'm super-happy.
With this Sunday slowly coming to its conclusion, I'm going to start working again from Monday onwards. This will be a full month of being a local in Lisbon! I'm really looking forward to spending time here and meeting with lots of my local colleagues as also with some of the many people that have reached out to me via Twitter.
Time will fly, I'm sure!