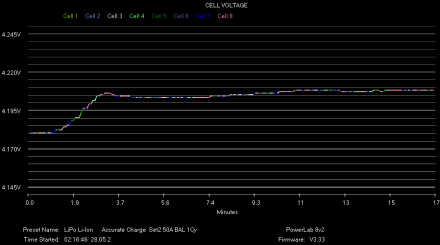 Finally, after being very busy, I'm able to conclude TDE2017's TLC for TW560. After ~30'000km driven since I bought the new pack, I figured it would be time to see how the cells were doing and balance the pack to restore its full capacity.
Unlike my last pack that just had 15 balancer ports, this pack has 2x3x7=42 such ports. (The answer to all questions 😉 )
Balancing this battery pack will definitely take longer than before! According to Ralph, inventor of the TWIKE and vendor of my current pack, balance cycles per port should be around 15 minutes – much shorter than the usual 30-45 minutes with my last pack!
Thankfully, my existing balancer (a battery workstation, hehe) is still able to connect to the ports. The only thing I had to add was a new charge profile to the workstation's preset memory and I was ready to start balancing!
With an engagement-free week-end coming up, I was ready for a balancing marathon.
I'm still impressed by TW560's interference-free Bluetooth-based sound system. Installed 8 years ago, at a cost of around 100CHF for receiver, amp and loudspeakers, it still sounds better than most systems I've seen in TWIKEs.
With the new batteries, TW560's bay has so much more space left than before!
Since it would be very boring to have to sit beside the TWIKE all day long (potentially even longer), I set up a system where I can control the charger remotely via my mobile phone and check on the charge wherever I am. If one balance cycle is done and the charger needs to be plugged into the next balancer port, I can call a family member and have them do the re-plugging and I can start the charger from anywhere on the globe. (If anyone wants to know how this solution looks like -> get in touch)
Since I felt like it, I made a quick video showing you how this setup looks like and how controlling the charger via my mobile phone works:
Good news: All but 3 cells from 14 ports with 8 cells each are 100% OK and usually complete the charge within 11-17 minutes!
The cells outside the norm are still very close and the differences might even be due to dirty balancer contacts.
Overall, I'm very happy with the state of my pack and will continue balancing every 20,000km to make sure the cells stay healthy and log their state over time.