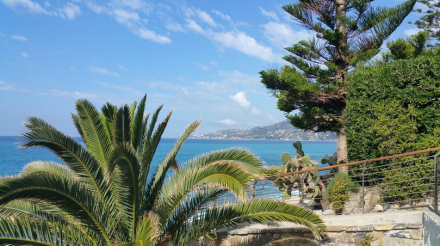 Our travelogue for today is short. Since our aim is to be on a much more relaxed schedule than last year, we leave from Menton at 9am after sleeping well in our very basic hotel.
All our battery indicators are back to normal, since we've allowed for a full and normal charge and are looking forward to meaningful information by our onboard computer. (Since we only changed the maximum charge voltage yesterday, our computer was trying to cope with the fact that we were still able to recuperate over 500Wh into the battery although it was 'full' from its point of view.)
From Menton it's only a few km to the Italian border. As usual, we like the marked difference in how a place feels just because of a few cultural differences. Italy feels alive, unorganized and proud.
It was part of our strategy today not to have breakfast at our hotel in France and wait until we're back in Italy. I already wrote about my love affair with Italian coffee and Italy as a country before – if you like being part of something, this is one culture worth taking part in!
We continue along the coast – cruise control, relaxing, marveling at the beauty of our surroundings.
We eventually arrive at a place called
Imperia
, an old Roman town perched atop of a hill, complete with winding, narrow roads, cobblestone and an impressive cathedral. We enter the town and explore all parts with TW560, even though they are '
zone di traffico limitato
' i.e. for residents only.
The cathedral is very interesting and definitely worth a visit.
Like a drug addict, I'm inevitably drawn towards a small bar just off the main square…
Best coffee so far on TDAF2016!
Without any hurry, we continue along the coast – the levels of relaxation are difficult to describe. 🙂
From time to time we just stop because the views are too nice not to – need an example?
Every now and then we head down some single lane road towards the sea, just to see what awaits us there.
Around 12 we arrive in Diano Marina, a smaller coastal city, where we stumble across a quaint hotel right on the beach and at the spur of a moment decide that this is the place we will stay for the night.
We check into the hotel, a family-run affair. They are more than happy to give us electricity and chat at length about the many things to be seen and done in Diano Marina.
For us, however, a first thing we want to do is just walk along the beach and maybe have a little snack and a few drinks.
On our way back we discover a restaurant with many signs trying to convey that they are the choice for anyone with any kind of taste (except for pizza, which they expressly don't have for lunch)
It worked. The food was exquisite (especially my fritto misto).
The rest of the afternoon, we both relax either in our rooms or (me) at the beach. The weather for this is just perfect – not too hot, not too windy.
Since JC – unlike me – likes watching football, we meet up after the first game at a bar at the shore and have some drinks and reminisce about some of our other TWIKE adventures we've experienced.
This is definitely the most relaxed we've both been whilst travelling…this is also why we've decided to stay here for another day for some extended R&R.
Looking forward to doing … nothing 🙂