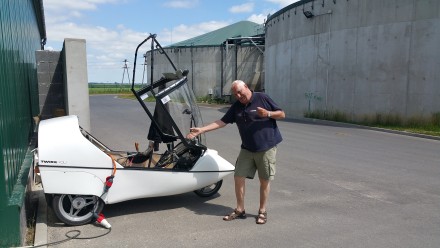 we start out early again – the weather promises to be as perfect as yesterday.
TW560 is fully charged and ready – even with a very complicated infrastructure.
getting out of bydgoszcz is quite challenging – as the bridge leading over the river brda seems to suggest 🙂
our day is magical. after a few kms on busy roads, we leave everything behind us and cross super-rural poland on single lane roads.
we slowly climb towards a plateau and from there onwards we drive from sleepy village to sleepy village. everyone seems happy and content here. unlike russians, polish people have a slightly reserved attitude towards our TWIKE. many, many photos are taken, but russians still top blog access list after switzerland, germany and india – tightly followed by estonia, latvia and lithuania. (did i mention i love server logs?)
at the end of our first discharge, it took us just one quick glance to decide where to go: a biogas fermenting and energy producing facility!
we speak to a young person working on the site. he doesn't speak any english or german. no problem: google translate works really well! we can converse in two languages with one smart phone between us. 🙂
he gets the manager of the site and he lets us charge at a 32A plug for free – without any further questions asked!
as always – and as our long-time blog readers might remember – jc has bought all maps to go with our trip. he loves to use our recharges to check where we are and where we could go next – even if the roads we've planned to take prior to our trip aren't even marked on his maps. (i must concede: i also love looking at old-school paper-based maps!)
the following pictures shall give you an idea of what we saw during our drive this afternoon:
after a 78 minute recharge – we were at 99% dod – we're ready for our last few kms today:
tired but happy we arrive at legnica, our starting point for our transversal of the czech republic tomorrow.