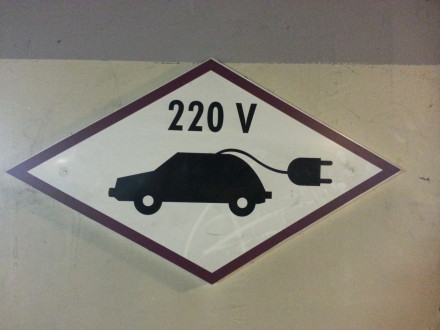 after sleeping well in very nice and comfortable rooms, jc and i are looking forward to a further day of relaxing and travelling twike-style. if you haven't read the first day, why not click here?
we're the first ones to eat breakfast. although it is still wet and grey outside, the view from our chalet is still stunning. i must come back sometime in summer!
we settle our modest bill and set out on the second leg of our trip.

View two-day trip in a larger map
weather conditions deteriorate quickly and whilst already being grey and cold, us climbing towards the clouds sees temperatures plummet drastically. rather soon we are confronted with something we thought we had left behind us for good…
but, thankfully, this didn't last for long. after crossing yet another 1200m pass, we started to descend towards the southern vogese mountains.
our standard fare of one lane roads keeps us happy – some streches of road are probably a tight fit for a car – no problem for the TWIKE!
after crossing some smaller valleys we arrive at the val d'ajol.
about halfway through the valley, we leave the main road and head into the hills. the road winds its way up and down green hills. from time to time we are in the open, on a plateau and we are treated to beautiful vistas. we cross many a village consisting of 4-6 buildings, and, in some cases a small church.

it's a very relaxing drive. no cars, maybe a tractor, definitely cows, sometimes sheep. friendly encounters with locals waving.
after a while we climb back to a plateau littered with small lakes and ponds. mostly for fishing and other – nutritional – things, too, which we should find out shortly afterwards.
it is a place unlike most we've been to yet. google gives us an idea what this looks like:

View two-day trip in a larger map
whilst we drive across the plateau, we start to feel hungry and with the help of our friend, google, quickly find a suitable place, aptly called – l'auberge des milles etangs. (the auberge of the thousand ponds).
a real treat – at the end of a track leading into the sticks a small barn-like structure stands just beside one of said ponds. we enter the structure and instantly know we will feel very at home…
it is indeed a barn – it has been converted to a very nice restaurant with all the amenities, open fireplace and beautiful interior design.
TW560 can charge outside and we are presented with the menu du jour on a wooden board – it's a very nice change to the usual fair.
jc and i take the menu on offer – salade riche, main dish (see picture below – can you guess?) and dessert.
everything was extremely delicious – we can absolutely recommend l'auberge des milles etangs > effortless luxury, very good food in a very nice setup.
very satisfied, we continue our drive and the roads stay very small, and the views remain beautiful.
we slowly make our way to belfort. a mid-sized city with – as the name indicates – a fort and a nicely renovated city center.
although there is an official recharging point, it is very, very old and only offers 2x schuko which look like they haven't been used in 5 years.
have a look at the charge point indicator – it gives you an idea how old the installation must be.
as resourceful as we are, we quickly found an electric distribution point for a construction site and thus were able to charge at full speed thanks to the tri-phase plugs and 64A fuses. just under an hour later, we were back on the road.
on our way out, we couldn't miss one photo opp for tw560:
we head back to switzerland's jura region. very nice, but since we spent more time than planned in the vogese mountains, by the time we get to porrentruy, it's already time to switch on the headlights…and:
zwwakk – first parts of TW560's auxiliary 12V system are gone, then the computer goes out. hmmm.
after some lengthy roadside troubleshooting i get the computer back and the source of the fault is found: bad french rural roads. the vibrations (and maybe some residual damage from our trip in india) have seen some metal parts in the rear light casing finding to eachother, shorting the circuit, but before shorting the circuit frying the auxiliary power electronics board. thankfully, nothing else was affected, eventhough driving home today is out of question due to the fact that we don't have any lights at all.
at least we're mobile again. we decide to drive to delemont – a larger town close-by – park TW560 there and take a train back home.