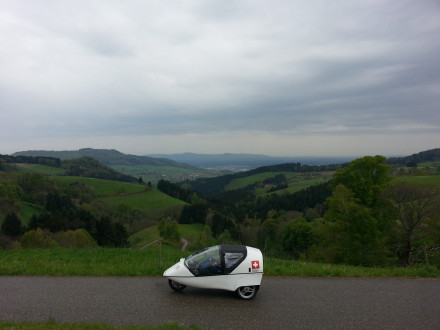 it's been a while since jc and i have travelled together in TW560. since i've started a new job this year, currently, things are much less flexible as they were before.
this is why jc and i have been planning just a few days away – not too far but still somewhere we've either not been for 20+ years (me) or not at all (jc).
our choice fell on the vogese mountains – a mountain range northwest of basle between mulhouse, strassbourg and belfort. i crossed the vogese mountains more than 20 years ago on my motorbike (on my way to northern france) and really liked the scenery.
we planned this as a two-day trip with us staying somewhere at the end of the second charge. as usual, i planned the trip with google maps and jc, as a collaborator, found us a nice place to stay – a wooden chalet with 4 rooms and a spa.

View two-day trip in a larger map
in the days running up to our trip weather predictions weren't good but we decided on going anyway.
jc arrived at 6:50am and parked his TW231.
whilst it was still gray outside, no rain was to be seen and temperatures were around 14°C.
as always, we shot our travel team selfies. we've done so since 2008 and it's nice to see that we are aging with grace 🙂
our first charge will take us up to the feldberg pass @ 1300m then back down to 300m, then back up to 1200m and then back down to freiburg, germany.
at first it looked as if the weather would be kind to us. but as we climbed towards the feldberg, temperatures tumble and it starts to rain.
as we arrive at the top of the feldberg, not only is the outside temperature at 3°C… it's snowing and we're feeling pretty cold. we therefore stop for a half an hour to warm up at the feldberger hof and whilst we're at it, giving TW560 a quick recharge at the local charging point since we're not sure that the charge will last until freiburg after all.
a little further down the road, we're engulfed in dense fog and can just imagine what the scenery might be whilst we are on full recuperation for about 10 minutes.
fortunately, just a little while later, we leave both fog and rain behind us and we can continue along our very small roads and start enjoying the trip.
we reach our charge point in freiburg and spend about an hour in a very otherworldly centre just around the corner where one can either learn how to use african drums, find your inner chakra, tribal dance styles or, more conventional, learn phytotherapies and about other natural remedies. the place has a small bistro which serves organic drinks and an open fireplace – exactly what we need today 😉
shortly after we started our second leg for today, we leave the black forrest with its hills behind us and head over the rhine towards france.
the elsass is surprisingly flat. although we know that somewhere ahead there is mountain range, we cannot see it…yet, due to a rain front coming in our direction.
we cross through a few rural villages – one of the larger ones we liked most was neuf-brissach. a medieval village with a moat surrounding a chessboard-like city layout.
after some time we arrive at colmar. although we could stay here and recharge whilst eating lunch, we decide to drive onwards.
this turned out to be a very good idea: just a few kms down the road, we discovered a very nice village called turckheim. we had to stop and have a look!
after visiting turckheim, we finally head back into the hills:
we're back to our single-lane roads, vistas and small villages:
we like the weird mix of languages here: part of the words are 100% german, many of the names are a weird mix of german and french. sometimes even jc and i (we're fluent in both languages) cannot guess at the meaning of these words… it's a cool travel game for us.
back up on the last hill at 1100m we have a small snack and stop at a place that made us laugh: le col de la schlucht. (the valley's hill – "le col de la" is french and "schlucht" is german).
from here it's all downhill to gerardmer. here we are back to a very nice effect electric motoring can have: we've got the computer telling us we've only got 6kms to go but the distance we need to cover is 21kms. by the time we get to gerardmer, we've not only covered the 21kms, but have 10kms left to go!
gerardmer is a small village at a even smaller lake. we head to our chalet and plug in the twike. since we're 30 minutes early for check-in, we wait whilst the two phase charge is not only charging the batteries but also heating TW560's interior. (i once did a tri-phased charge when it was -4°C outside – inside the twike i was enjoying about 18°C after just 10 mins due to the combined losses on all three chargers of about 400W!)
the warmth was welcome, since just a few minutes into the charge, it started to rain and changed to hail for the rest of the charge. 🙁
after we checked in (beautiful place!, check out the gallery), we headed out to gerardmer and took tw560 around the small lake. the weather suddenly decided all was well and we got some sun and blue sky for a change.
later, we wanted to taste some local specialities – what better place could there be for this than the taverne alsacienne? a wonderful, small local restaurant with a selection of excellent local wines and local dishes. definitely worth it!
after a very good meal and back at the chalet, jc went to his room whilst i headed to the spa and relaxed in the sauna with a beautiful view of the lake and surrounding hills – haven't been in such a nicely designed place in a while!
thoroughly relaxed and tired i go to sleep, looking forward to a wonderful next day's trip.