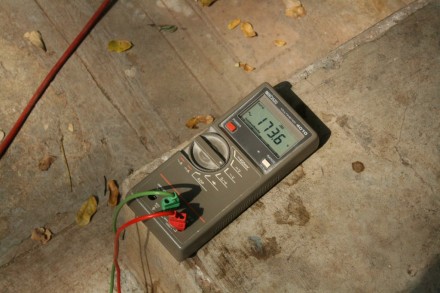 yet again, we get up early (not bright &) and go to our vehicles. it seems that the cars were unplugged sometime early morning. luckily, the TWIKE, with its small battery was already done charging at that time and we were able to start out with a full charge.
not so team twingo – they decide to leave anyway and charge somewhere en route.
since we've got to cover 156kms today, we need to conserve energy. our current overall weight is about double the car's weight. our target consumption for this stage is 42Wh/km. the other cars zoom by and they are quickly nowhere to be seen.
just a good hour later we see them standing at a roadside restarurant, charging and probably eating some breakfast… we press onwards and although the road is still very nice, we are hitting some hills. every metre of altitude munches heavily into our range.
happily, however, we are able to coast a lot on the way back down on the other side of the hills. after 154 kms we finally arrive at anandapur with it's bustling city centre, which we cross in order to get to the institute we're going to visit.
the first thing we need to usually take care of is charging. usually, we are dissapointed by the available infrastructure, since mostly people at the institutes have no idea whatsoever regarding energy and amps and what the building's cabling can support.
this time, however, it was as bad as i could get: the electricity was gone within 3 mins of starting charging. i then connected the multimeter to the line, all cars connected. then the fuse was put back in and we had 241V @ 50Hz. this deteriorated within 3 mins to 176V (!!!) @ 47Hz before cutting out again. (it was interesting to see that the TWIKE's controller stopped charging at about 208V but the chinese chargers on the other phases were still happily pumping out DC for my batteries at 176V!)
we pulled about 25 metres of extension cord to another building and finally we were able to charge at full rate and were ready for student interaction.
when done, we entered hindupur into our google navigation system and set off. the road deteriorated quickly into a small path across the fields. the TWIKE was not amused. the suspension maxed out often and at the end delivered us at the highway, not at an access ramp, but 10m below the highway 🙁
so we had to backtrack about a 1km to another dirt track which then eventually took us to an access ramp. it is incredible how detailled google's data is! learning for today: in india, do not follow white roads!
back on the motorway, we weave our way through rolling hills before we leave the motorway to complete the last 20kms to hindupur, a small, sleepy central indian town.
the hotel is basic but ok – read what a fellow traveller wrote about it:
anyhow: the restaurant serves up a very tasty variety of curries – yum! (with exceptions, as the image below shows)
we charge and go to sleep early > tomorrow we head to the big city: bangalore!