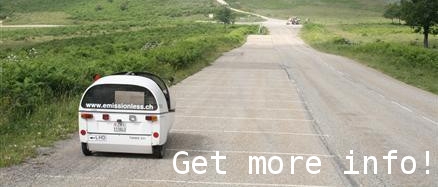 WELCOME!
The TWIKE, an electric three-wheeler designed in Switzerland.
TWIKE?
Three wheeler designed in Switzerland in 1985
Name is short for "TWI"n-bi"KE"
This TWIKE is number 560, built in 2000. New ones are still built today.
It has done more than 220'000km
Electric range 460km / 75kg lithium batteries
Top speed 100 km/h
Has been to many places
Much more information on TWIKEs can be found here.
UPDATE April 2019: TWIKE 560 is on a yearly adventure – TDI2019 – start reading!
PLEASE send us your photos via Twitter: @TWIKE_560